If you don't already know by now, I knock wood. Seriously I do. I like cars with faux wood interior because I believe in the power of the wood.

When my turn comes, I know knocking on wood and karma will come through with the big one...you know the lottery!
In desperate times, I knock on plastic, dry wall, or my faux wood desk from Ikea. I firmly believe that if the intent is there, it will work. But I do prefer the real thing...
And like most people, I like expensive things. As a spoiled American citizen, I believe I can say that our country as a whole is drawn to the expensive things and we all want it now...whether or not we can afford it is another story.
Everytime I am near the Chandler Mall, I visit Pottery Barn and Pottery Barn Kids and I grab every catolog in sight. I like the color cards and the swatches too. I don't always buy something but I sure love to look.
After I get home from a bad (stressful) (crazy) (fill in the blank) day, I open one of the catologs...
and my troubles melt away.
For some you would think that trouble begins...I mean it is shopping afterall..
But this free inspiration makes me feel like I can do anything and my middle class life will not hold me back from enjoying that model home look.
Every chance I get, I unload my Amex points for a gift card to this beloved store and I have gotten quite a few over the years. By bills have afforded me (and my kids) these splurges over the years:
Outdoor Grommet Drapes
It's too dark to take an original picture so I refer to you to the site:

I had $400 in gift cards...
(I originally was going to buy the kids a craft table but there's a story to go with that PB experience best left for another day.) and for eight panels, I still spent over $100 out of pocket.
Dollhouse $159 (plus tax)
No monies spent beyond the gift cards but I did spend some dough on the furniture and referred relatives to PB Kids for their own shopping enjoyment.
$55.00 Shopping Trip
No Gift Cards :( But Clearanced!!!
Barbie Bedding...It's a Secret so don't mention it to Bananalise!
$55 is actually practical given that sheets sets are Wallie World can run about $30. And I was able to get a sheet set, pillowcase, decorative throw pillow and sylish heavy duty finials. And it is for a special occasion and she needs a second set of sheets. I am wasting too much water on bedding loads and the water bill is out of control!
Depending on how long I can wait, it will be for her Birthday...or the Easter Bunny...But should I let that bunny take all the credit?
There are more deals that I have made but it's too late to keep pondering those purchases over the years!
So given my love of wood and PB, you must understand how excited I was when I heard about Anna's blog @ Knock Off Wood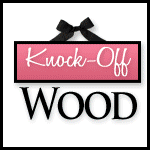 It Ranked as One of My Top Favorite Blogs. Does that tell you what a good thing I found???
And I shared it with everyone that was important to me.
(If I didn't tell you yet, I was going to but the opportunity had not come yet!)
So, when I heard the news from my bff, Heather, I was stunned. Yes, PB wants her to remove all of their pictures and mention of their name. I read it myself. Take a look if you don't believe me.
And I spread the word...and am trying to keep it going! I was considering killing some trees and printing her entire website but my love of wood stopped me and fortunately, PB didn't demand that she take down her plans. And if they did try, I am sure I can fly to Alaska and beg Anna for a complete set...
But because I am a poor paralegal without frequent flyer miles, I decided I would hit up a buddy for buddy pass to fly (hint, hint, my fellow wood knocking friend)...or just beg for my employer to open an Alaska office and demand that we have an in person disbursement conference held by yours truly.
So the moral of my story is that I actually buy PB on rare occasions...I do drop some dollars or gift cards when I do...but I would not buy their marked up full priced furniture even if I won the lottery.
Why, because it is too expensive for my inexpensive, middle class, frugal self no matter how much money I have or don't have. I really doubt that anyone that reads Anna's blog can afford, want to afford or would have bought the furniture from PB to begin with...
And I would like to add, her blog actually reminded me to check out the clearance at PB so if anything PB got some free advertisement. I know that I won't be giving any of my business or word of mouth for them anymore. Come on...there may be a line drawn or not but it's just furniture.
It is not as though PB came up with a unique design. I see old antiques and inspirations from other sources that makes me wonder whether their ideas were "borrowed" from a peon
(pee on...get it?) like you or me.
If the real world taught me anything in life, it's the small people that count and hold the big ideas.
We just don't see much of the profit. I wonder if the person that signed the letter actually wrote it...
So refrain from shopping at a store that targets the little folks and hold those credit card points for another store...
Anne @ theloydcollection
PS: The pictures posted on this post were taken by me of items I bought so not to infringe on some corporation's ego. When I have time, I will remove all the pictures I too have borrowed from their site so I don't provide anymore free advertising...because we all know how much time free I have and how much money I am making from blogging ;)