I know it has been awhile since I last posted but I came down with a serious case of the swine flu just before Thanksgiving.

Things are now getting back to "normal" and I am trying to get the house back in order and jump back into my projects.
What better way to than to participate in one of Shanty2Shic's link parties!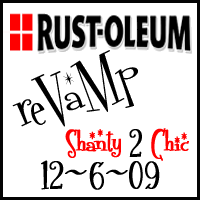 Our kids' coats and backpacks have been homeless and just kicking back wherever they land after school so I was in desperate need of giving them a permanent home.
While yard "sailing" a few weeks back, I picked up this great mirrored frame with hooks for $2.00!
After pulling it off I was left with a glue ball...any project ideas to reuse this?
A can of my favorite Rust-Oleum Heirloom White...Satin Finish
I coated this frame with a few coats



and gave it a quick sanding with a 3m 180 Sanding Block.
In the meantime, I rolled a couple coats of chalkboard paint onto a board that I had cut to size at the Home Depot.
We let the chalkboard paint dry and went back to work on the frame with our favorite Ralph Lauren Tobacco Glaze.
Annelise helped me with this part so we could apply it quicker and get to wiping the glaze.

After the glaze dried, I glued the chalkboard in place with Gorilla Glue and finished it off with staples.

Check out all the great ideas here!